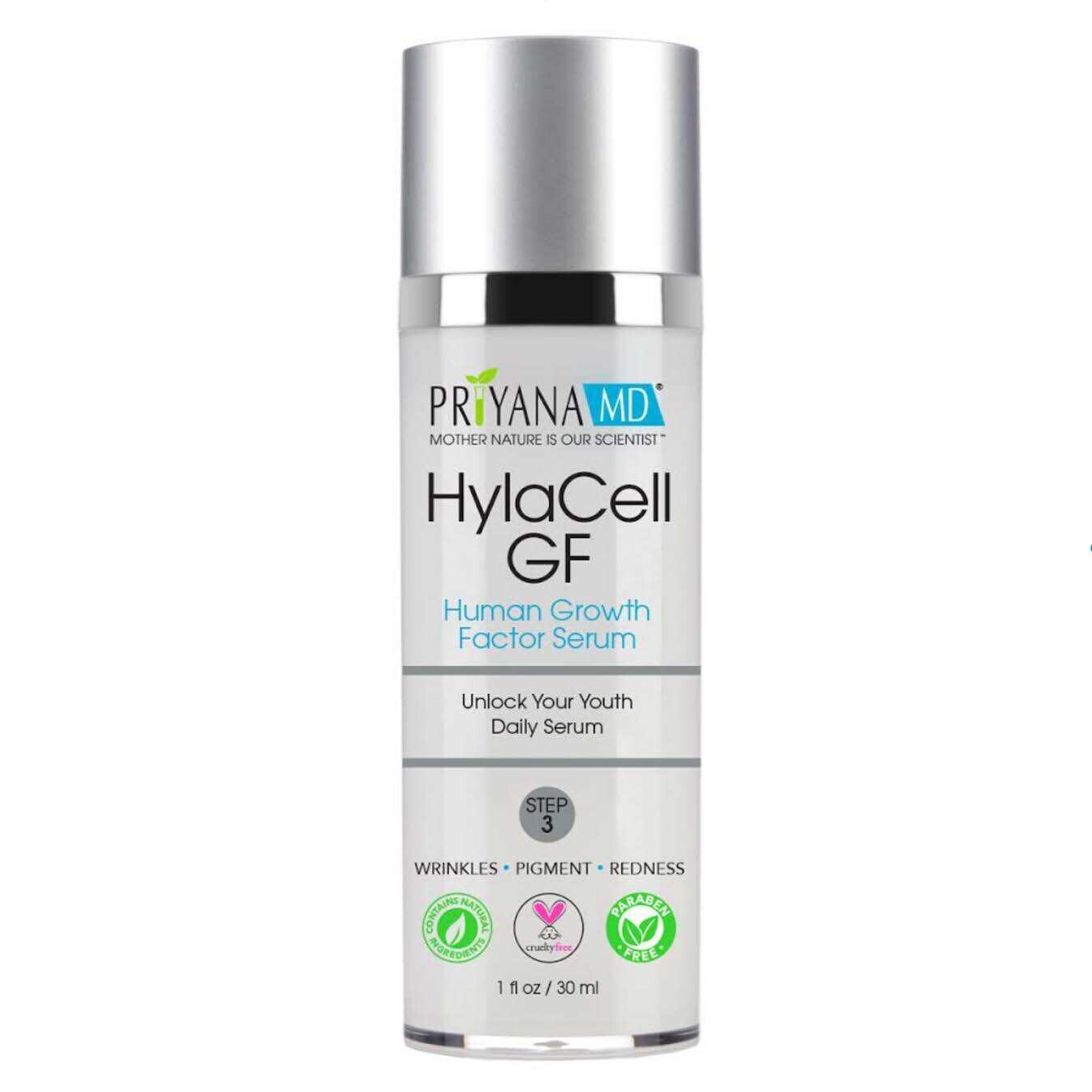 HylaCell® Growth Factor Serum
00002
Product Details
HylaCell® Growth Factor Serum
Rejuvenation Beauty Serum
This highly concentrated skin serum is 100% natural with advanced Growth Factors to help deliver brilliantly radiant skin. An anti-aging, silky serum that helps to deliver a plump, radiant-enhanced, glowing complexion. The next-generation of skin serums is here combined with advanced ingredients to help improve the appearance of wrinkles, fine lines, skin tone, and texture.
This anti-aging serum is the right combination of ingredients for healing, repair and skin communication. If you've been using retinoids, moisturizers and eye creams, you can optimize your skin care routine with Hylacell GF Growth Factors for the ultimate glow. Growth Factors are proteins found abundantly through the body that float between cells with crucial relevant messages. You should think of Growth Factors as the communication highway between skin signaling if something is wrong, where it's wrong and acts as "Mr. Fix it". Your skin cells operate like a symphony and when one instrument isn't playing the right key, the entire sound is off. Growth Factors like Hylcell GF Growth Factor is applied to skin where the Growth Factor proteins can signal the damage and start the repair process bringing your skin back to natural optimal working condition. Growth Factors are are vital for stimulating collagen that leaves skin looking youthful and plump. To read more about the role growth factors play in collagen production visit /best-skincare/what-is-the-best-growth-factor-serum-to-put-collagen-back-into-skin/.
Because you lose collagen as you age, it's crucial to use natural skincare products to promote collagen production. The mindset is that as you lose collagen, you are working to replace it. Many new skincare products are introduced every year. Some of these products are high-end designer treatment products that help skin help repair skin and restore youth. Among these products growth factors stand out and can benefit any skincare routine.
Why do You Need to Use Growth Factors?
Prevent wrinkles and reduce the appearance of lines and wrinkles
Improves the appearance of age spots and evens out pigmentation
Increase collagen production leaving skin plump and supple
Reduces Skin Roughness
Increase moisture levels in skin and hydration benefits
Improve overall skin tone and texture
Increases elastin production
Improvements in skin thickness due to increase in elastin and collagen
Increase Ceramides which prevents moisture from leaving skin
Ideal for:
Ingredients:
Aqua (Water/Eau)
Human Stem Cell Conditioned Media
Betaine
Glycerin
Propanediol
Dextran
Caprooyl Tetrapeptide 3
Hexapeptide 10
Panthenol B5
Swertia Chirata Extract
Hexapeptide 33
Hydroxyethylcellulose
Sodium Hyaluronate
Phenoxyethanol
Ethylhexylglycerin


Save this product for later
' widgets='productbrowser']