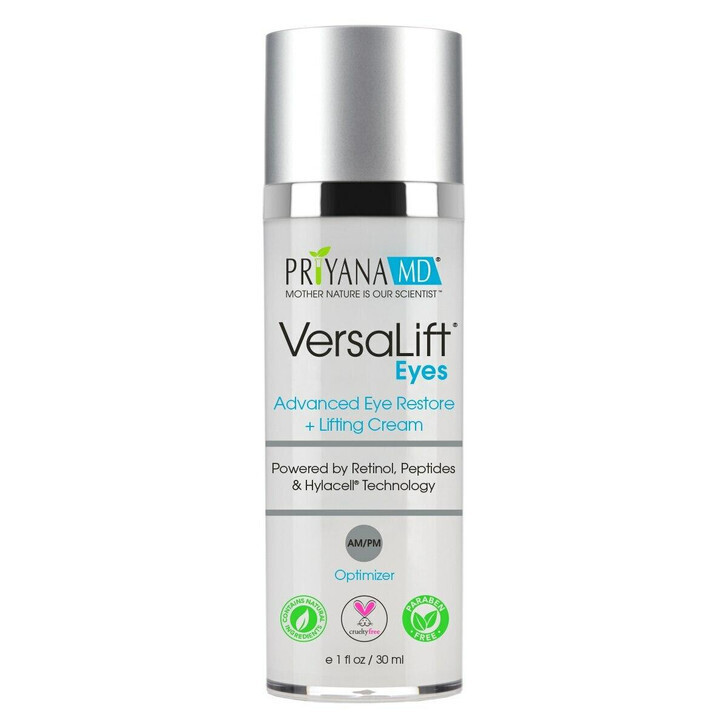 VersaLift® Eye Restore + Lifting Cream
00005
Product Details
VersaLift® Eye Restore + Lifting Cream
Collagen-Infused, Time Released Eye Cream
Want to reduce dark circles, puffiness or wrinkles around your eyes? Finally, an anti-aging eye cream that targets wrinkles, skin hydration, collagen under eyes, eye puffiness, dark circles and under eye bags. VersaLift is an eye cream wrinkle repair treatment product that helps to deliver a firmer, tighter appearance around the eyes. Is it a retinol eye cream, a hyaluronic eye cream, a Peptide eye cream? The answer is YES to all, but it's much more! This rich and restorative eye cream features brightening combination of peptides, vitamin C, retinol, stem cells and botanical extracts for firmer, tighter skin around the eyes. Collagen-infused firming eye cream that helps to improve dark circles and fine lines.
VersaLift Eye Cream is packed with ingredients that fight signs of aging. Formulated to increase collagen levels, this product also adds essential vitamins to your under-eye area, which helps restore the skin's elastin making it more plump, firm and healthy-preventing fine lines, wrinkles and sagging skin. The proprietary blend of time-released technology infusing hyaluronic acid, glycerin, antioxidants and plant stem cells deliver intense hydration helping to restore the skin's texture and clarity
Formulated to :
Provide short term and long term anti-aging eye benefits.
Formulated with clinically proven ingredients that help to to deliver INSTANT gratification clinical studies show improved results as soon as 3-6 hours, while the other ingredients star to work! short term and almost INSTANT anti-aging visible results in as little as 3 hours, making it one of the fastest and most effective anti-wrinkle eye creams
Encapsulated Hyaluronic Acid helps to deliver ultra-superior hydration to the skin around the eyes. A load factor or retinol is also encapsulation, using enough retinol to be effective but not to irritate the skin. And if that isn't enough, we use the holy-grail ingredient Argireline, the Botox-like peptide!
What is Argireline?
Argireline is a super peptide
A natural protein called SNAP-25.
When applied topically, Argireline can reduce facial wrinkles, eye wrinkles and fine lines and been shown to promote collagen production.
In studies, Argireline has been shown to increase collagen production and reduce the depth of wrinkles, with some women even seeing the depth of wrinkles decreased by up to 48% after 30 days of use.
Argireline is a fabulous peptide that helps to also increase skin firmness!!
Why are eye creams important to use?
Its important to note that after the age of 20, a person produces about 1 % less collagen in the skin each year, including collagen around eyes resulting in sagging eyes, loose skin around eyes, bags under eyes, skin puffiness and eye wrinkles.
Exposure to environmental free radicals (sun, smoke, pollution) people naturally lose collagen and skin becomes thinner and more fragile with age.
Potent, active, natural skincare ingredients that help PROMOTE COLLAGEN (peptides, retinol) and fight FREE RADICAL DAMAGE (antioxidants) are vital to counter attack the lose of collagen and normal aging.
VersaLift :
Apowerful Anti-aging hydrating Peptide Eye Cream helps to firm and diminish fine lines and wrinkles around the eyes (peptides),
Helps to plumping skin with intense hydration (Hyaluronic Acid), exfoliating with retinol (Vitamin A derivative), fighting free radical damage with Antioxidants (vitamin C, E, B3, B5)
Consumers can benefit from overall anti-aging eye improvements, lines/wrinkles, reducing puffiness and dark circles.
Excellent Choice For Dark Circles and Wrinkles and can be added to all skin types in any skincare regimen
This Product is great for:
Dark circles and puffiness
Firming and Brightening
Dry eyes and sagging skin
Anti-Aging, Lines and wrinkles
Dark Circles under eyes
Eye puffiness and under eye bags
Wrinkles under eyes and fine lines
Anti Aging around the eye
Dull Lackluster Skin
Loss of collagen around eyes
Skin that lacks hydration
Texture and Uneven Skin tone
Improve Tone, Texture and Clarity of Skin
ALL SKIN TYPES
How to apply an eye cream:
Use a pea-sized amount of product.
Use your ring finger.
Gently tap small dots under your eyes, starting in the innermost corner and moving outward.
Pat the product into your skin.
Let the cream fully absorb.
Eye Creams should be applied morning and evening
Ingredients:
WATER
ALOE BARBADENSIS LEAF EXTRACT
SPHERE TECHNOLOGY TIME RELEASE
GLYCERIN
CAPRYLIC/CAPRIC TRIGLYCERIDE
STEARIC ACID
CETEARYL ALCOHOL
CYCLOPENTASILOXANE
CETEARYL OLIVATE
CETEARETH-20
SORBITAN OLIVATE
OLEA EUROPAEA (OLIVE) OIL
BUTYROSPERMUM PARKII (SHEA) BUTTER
BIOSACCHARIDE GUM -1
PENTYLENE GLYCOL
DIMETHICONE
ACETYL TETRAPEPTIDE-5
GAMMA POLYGLUTAMIC ACID
HESPERIDIN METHYL CHALCONE
DIPEPTIDE-2
PALMITOYL TETRAPEPTIDE-7
SODIUM HYALURONATE
AMINOMETHYL PROPANOL
PHOSPHOLIPIDS
ARGANIA SPINOSA SPROUT CELL CULTURE EXTRACT
EPILOBIUM ANGUSTIFOLIUM FLOWER/LEAF/STEM EXTRACT
PAULLINIA CUPANA (GUARANA) EXTRACT
CAMELLIA SINENSIS (GREEN TEA) LEAF EXTRACT
GLYCYRRHIZA GLABRA (LICORICE) ROOT EXTRACT
ARGANIA SPINOSA KERNEL OIL
TOCOPHERYL ACETATE
RETINYL PALMITATE
TETRAHEXYLDECYL ASCORBATE
SUCROSE PALMITATE
GLYCERYL LINOLEATE
ISOMALT
SODIUM BENZOATE
STEARETH-20
XANTHAN GUM
CARBOMER
DIMETHICONE CROSSPOLYMER
TETRASODIUM EDTA
PHENOXYETHANOL
ETHYLHEXYLGLYCERIN
Save this product for later
' widgets='productbrowser']